I came a across something so cute,so adorable,that make me squeak the word kawaii!
Behold,
The world of BJD's which stands for ball jointed dolls.
I cam across them this year on a tv show about Japan and Otaku (Geeks) /Collectors of anime and such when they did a piece on those that collected these stunning dolls,they cost a fair amount of money and some are just to die for,some are so life like too.
Any how I soon found out that there was all shapes and sizes and that you could customise them into the perfect doll for you or animal there is even animal styles!
I was never into dolls as a child but with them coming from over in Japan (and over in Asia and America too )and the detail that was put into them and the cuteness-how could I live with out one?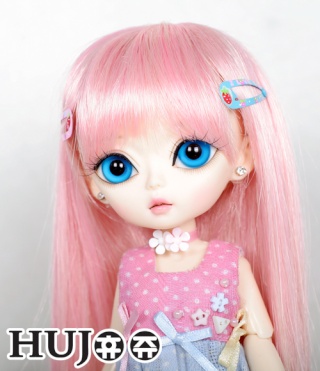 I set out on a hunt for the doll,but i did not have any idea what was on this path of discovery.
I spoke to a few BJD owners that I have on my fb list and they both said if you see a mould (shape of the doll) you like that's the one for you,I knew from the start I wanted a small style of doll and started looking into them,there are so many styles and brands.
>.<
I joined a few trade and UK buy groups to see the styles and joined a few online forums so I could see the dolls and looked into reviews.
In the end I took a jump and went for the Hujoo baby style,I choose one that already had a face up,as I didnt feel brave to do that myself so I found a set for sale on ebay with a face up,eyes,wig and a outfit,and a few others so went for one.I am aware its in the post office depo,I had to pay a customs charge.
T_T
So I have to wait even longer for it know!
Oh I forgot to say its Female so I will post lots of Photos when I get her and such,I will need a name for her too.
I think I will save up for a small amount of outfits for her and then think about maybe getting a other BJD but maybe with no face up or a other style.likes of the Obitsu or Azone dolls as those are a lot different in style less ball joints and more anime like than real life looking.As well I'm looking at the normal Hujoo size as I am liking the moulds this make comes in.I'm no expert in BJD this is a while new thing for me so I am learning all the time about them.
stay super kawai
Tartan