Hey there cuties, I got a really cool and adorable review* post here for you all.
Not only that I also have a video on you tube of me playing with these new products form a Esty store called Pearl Planet. Where the lovely owner designs her very own nail decals and sells cute vintage jewellery pieces.
As many of you know am a big fan of nail art and cute stuff so these are totally perfect for me. I am also a complete sucker for the designs such as the amazing and kawaii unicorns perfect for most of my readers to the sweet Mickey and Minnie mouse styles for you Disney fans and the space kittens ,which is a personal favourite of mine And there is many more!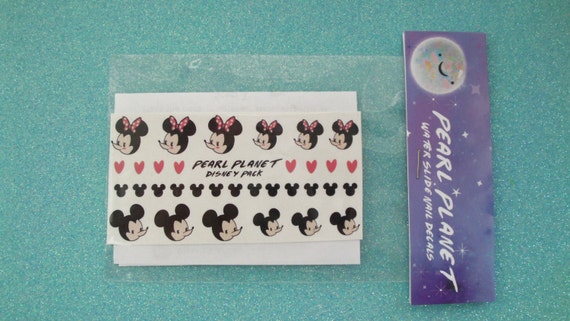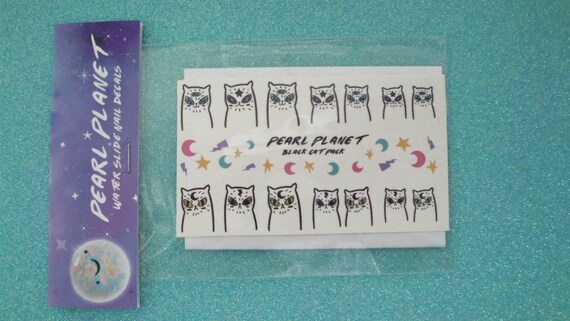 When I was asked what I thought of them a while back when they were just being released - I was impressed and then to be offered to review them I was looking forward to it . I really wanted to see how easy it could be to transform my dull nails to nail art!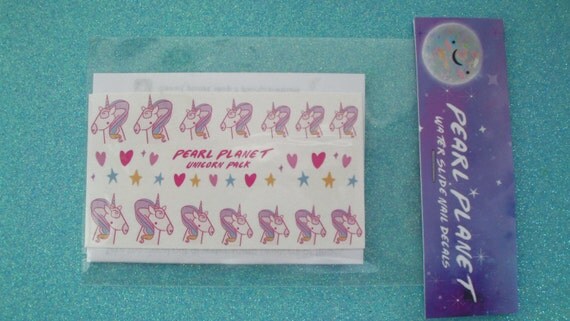 I got a little quirky envelope in the mail and I found a pack of the nail decals to try. They come with instructions! And after reading them over I thought I would test one.
Frist attempt worked fine! Just cut the deco out and close to the design as possible then put it in a small dish of water. easy...until I realised my dish was more of a bowl and took me a while to fish my decal out! LOL. However with the extra time the deco was fine. I know some makes with brake away and fall apart. Not this one it was fine and I managed to get it on my nail. Even if it was the wrong way round - whoops. It still worked!
Attempt number 2, went much more smoothly . This time I used a small dish and less water to avoid my decal swimming about. I managed to get it out better and followed the instructions to the word and taa-daa it was on. Easy. Only had to seal it with clear top coat polish and I was set to go. Now am pretty heavy with my nails, typing, cleaning cooking all that stuff and the decals stayed on extremely well, none of the deco cracked or pulled/ snagged on anything. So I am pretty impressed with that.
The Decals can be used on natural nails, Fake nails and on painted nails, each pack comes with 33 decals in a variety of sizes for your nails. When you pick your base colour you may want to keep it to lighter tones so your decal do not get lost in any dark shades . I think these are really cute, creative and fun . The would make a cute small gift and little extra for some one who likes this kind of stuff- Like myself! And they sure are a lot of fun. They are easy to apply once you get into the hang of it and it do not take up much time to even do them. You could use them all at once or only select a few nails to get the decals applied on to them.
They cost £2.99 which I think is a great price for pack and the fact they are also designed by the store owner makes them a cute handmade quirky gift.
Get your own set here!
Check out
instagram
too