So here is a kawaii post on some cute bags and some kawaii back packs am just loving at the moment!
I love a quirky fun back pack for conventions to throw all my stuff in and when I hit the shops as you can throw all your new purchases inside it and no need to lug about those rotten plastic or paper bags. mind you am a complete sucker for a kawaii tote shopper bag but maybe I will do a post on those some other time . But these ones are just so Kawaii that I had to share them all with you! So here are Tartan's Top Five Kawaii bags!
First up , this very 90's style kawaii bag caught my attention . Why well one its see through and two it is pastel pink! This is such an adorable back pack! I am digging those extra pockets and just love that cute touch of pink to it. You can pick it up form Attitude Clothing.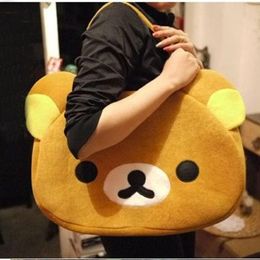 Next up this this bag here which is a face cut style of lazy bear Rilakkuma, Its a smart over sized shoulder bag that you can find on ebay and around other web sites, I have one and its HUGE you can fit a lot in it , the only thing is it looks a bit odd with you put to much in and it starts to look a bit misshaped but over all its a Kawaii bag and its super soft to touch too.
Am loving this semi see through Pretty F*cking Cute bag from Skinny Dip! Its a small back pack and am in love with it, not as many side pockets but where it lacks that it makes up in character. Am loving that over sized pom pom and the black/ pink colour way making it look kawaii but with more of a mature and cheeky taste to it.
The other bag in pastel pink is also from Skinny Dip , Which is a shoulder chain style bag. Kawaii hand held game console which is super quirky and fun looking. Its Game Over and has little side wings too!
And lastly is the window bag which you can find on ebay and most Kawaii online stores. Which is often called the ita bag. These tend to come in a range of colours and are your backpack style bags . Each one has a see through bit and a bit of lapped material so you can decorate inside the window section to your personal taste. Which is pretty cool.
Well that is my 5 top Kawaii bags - Enjoy!