This whole week has been gloomy and rainy,Im quite gutted about it with the April showers and even Hail!
>w<
What on earth is that all about?
This Blog entry is about getting this Lolita look but at a lower costing price!
This Entry was sparked by some one saying how expensive Lolita outfits are and its very true and sad news for us having to ship and order over seas as the postage adds even more to the price! *tear*
So how can we get around this.
One idea is get into the Lolita community its rather hard to with being Scottish but if you look on the web for Lolita groups online and forums its a good start and get talking to them,I found a few on Facebook under the groups in a search.They may have some hints and tips for you and your hunt for Lolita goods at a lower cost.
I had to search myself and on a budget I came across enchanting online shops that ship from Japan but the price was so high!
So I looked at what I was looking at and thought can I make it /some one else or can it be broken down into something more simple?
Then I headed over to a few Lolita models/Idols and looked at the outfits in a new way,What are they doing to create the looks,I noticed a few would have the same dress on or skirt and would team it up with other tops or wear it in a different way by adding a jacket or change the other items colour theme.Looking at the tops and dresses I then looked online at your normal high street shops and found a simple version which cost a lot less!
So lets this dress here its black and white and classic looking.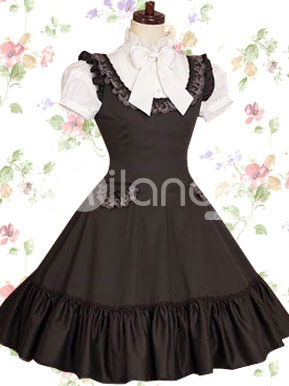 This Dress is from
here
but I don't want to spend about £40 on it so lets make it our own,
A lot of Lolita actually make a lot of there own stuff on a side note.
So here is how I would do,Look at the shapes and the details and then remove them in your mind or you could use Photoshop here (I use GIMP btw).
The Dress could pass as a Skater Dress which seem to be in at the moment in the shops so you can get one rather easy and cheap.
For Example :New Look
Yes I know its not every Lolita like but take that Brown belt off and purchase a high neck Blouse like the one form Kate's Clothing,with the dress on top you will get the Pinny style dress look of a Lolita.
You could use a White or a Black depending on the style you are after.
You can also get very low priced Blouses more a less anywhere or you could try a Vintage shop,charity shop and Gothic shops for a blouse with more detail.
The Bow Can be very simple to make with Ribbon or again you can find oversize bows made at Esty,Esty has a lot of treasures to find.All You have to do is add the bow to the blouse make sure its nice and big.
Lets take a other look at the Lolita Dress,Which has Lace around the Neckline,Hem and Shoulders,Know if your a dab hand with the sewing machine not a problem or if you are like me and can not use on to save my own life then its best asking some one or going to a tailor shop to help.
All you would need to do is get a Lace material from a fabric shop or a Craft hobby shop they would have such things and attach it to you skater dress.
Then you can team it all up with Bows,Ribbons,Hair Pieces and Jewellery and really make your new outfit your own and best thing is no one will have the same as you because you made yours your self! Its Kind of Easy once you know how.
Stay Kawaii x